Get To Know Exactly What Convenience Banking Is All About!
Sep 7, 2022
Recall the days when we had to wait in line to avail the most basic financial services, such as paying a bill or transferring a cheque. Who would have imagined that one could transfer money years later with just a few clicks? Or that we could use the bank's services from our smartphone? For the banking industry, the Covid-19 pandemic has been a major accelerator for end-to-end digitalization. The shift to practically online-only models is one clear trend. Another extraordinary transformation is banks shifting their user contact base to digital channels. With 750 million smartphone users and a fifth of the world's youth living in India, there is no reason why digital and convenience banking shouldn't have been adopted in the first place.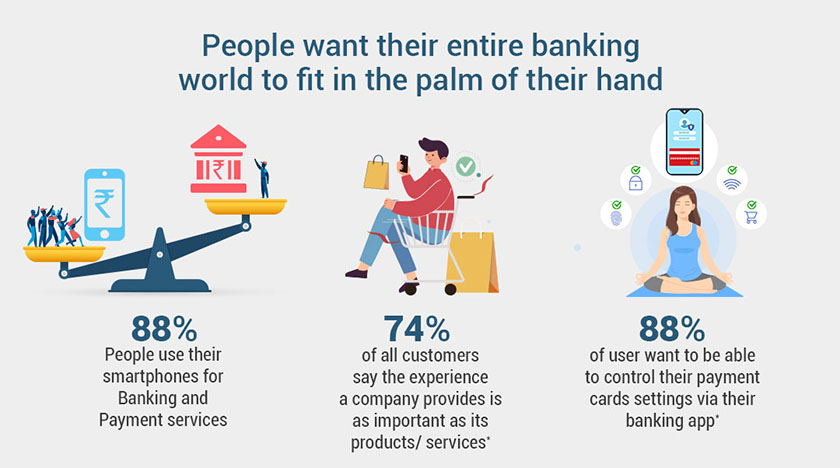 In every sector, millennials and Gen Z's are fostering a culture of innovation, entrepreneurship, and diversity. Along with their passion for technology, this generation is also changing how financial institutions operate. Times are disruptive and convenience is now the key currency of daily financial transactions. Today, everyone anticipates that as technology develops, digital services will increase. This is where the convenience banking trend has fully manifested itself, revolutionizing all facets of banks and banking.
What is Banking Convenience?
Users of today are accustomed to quick and simple digital-first experiences. Previously, for an account or loan, banks needed customers to physically visit the branch and submit a substantial amount of documentation. That was not convenient in any way. In the era of convenience banking, the customer experience is getting enhanced, with speed and convenience being the two highly desired crucial features. Earlier, convenience used to be more strongly linked with how close a bank was to the customer. But in a digital age, providing customers with an omnichannel experience is the key to convenience.
Moreover, online banking, mobile banking, and UPI have become the key components of convenience banking. Mobile banking is valued more by young adults than traditional branch banking is. They want accessible, customized financial services that are convenient for them to use. Currently, the most popular payment method in India is UPI, which completes transactions in just a few seconds. Because of features like UPI payments based on QR codes and others, even non-techies are using UPI to make payments. National Payments Corporation of India reported that UPI processed 5.04 billion transactions for the first time in March 2022. This demonstrates India's openness to digital financial interventions and lays the groundwork for more initiatives of a similar nature in the convenience banking ecosystem.
Convenience Banking Benefits
Convenience First
One of the key advantages of mobile and online banking solutions is the freedom to conduct banking whenever and however you like.
Diverse Features
Many banks offer feature-rich mobile and web experiences. Users benefit from personalized financial guidance, saving tools, calculators for large purchases, and even virtual assistants.
Increased Security
Nowadays, a lot of mobile banking apps support both multi-factor authentication and biometric authentication for login. In some circumstances, electronic wallets and digital payments actually provide greater security than physical cards.
Complete Control
Navigating daily transactions in the era of convenience banking and electronic payments is becoming simpler. The self-serving intuitive ability of the platforms is the best aspect.
User Flexibility
The ultimate goal of convenience banking is to give users the most freedom possible, which is essentially achieved by all of the aforementioned benefits and more.
What Does the Future Hold for India in Convenience Banking?
Digital is the future for banking. Making the banking and financial services industry digital, is one of the stated goals of the Government of India. Due to the pandemic, there has been an increase in transactions made using debit and credit cards as well as UPI systems, especially compared to last year. India's banks are changing as the country's banking sector undergoes significant improvements.
To keep pace with the global competition, financial institutions are making significant investments in digital technologies. All aspects of banking, including credit scoring, CIBIL scores, investment banking, lending, borrowing, private banking, consumer service, loans, etc. are shifting to the digital mode, making the entire system more independent and convenient. Employee productivity has increased as a result, and customers are now receiving better service. Banks are now more than ever, attentively evaluating their customers' needs in addition to their technical capabilities.
Banking Convenience by RBL Bank
Aptly named Apno ka Bank, we at RBL bank, put our users and their needs to the forefront of building solutions. We provide instant access via mobile devices for everything from contactless banking to account access. We have also introduced a variety of unique features for the convenience of customers across all generations. RBL Bank's convenience promises users to accomplish daily banking tasks better and control finances in a more streamlined manner.
Get started in the world of hassle-free digital banking. Check out the multiple offers and offerings of RBL Bank – Apno ka Bank.