4 Reasons why you need the RBL Bank Cookies Credit Card
Jun 23, 2022
As a fashion influencer, Prerna's life involves meetings across restaurants, plenty of travel, and attending numerous soirées. To manage these expenses, she was contemplating getting a credit card. Her apprehension led to a serious discussion with her accountant, Mohit. He explained to her the many advantages of getting a credit card. His logic was simple – as long as there is good financial planning, getting a credit card can actually be beneficial.
He also took the time to explain the various benefits of a credit card.
A credit card would serve as a rewards card for a person like Prerna, who constantly traveled and had monthly expenses on e-commerce apps and restaurants. Over time, the accumulated rewards can be used for redemption, miles, or even coupons.
Prerna is looking to renovate her house and might need a loan soon. Credit cards can be instrumental in improving credit score, which is vital when getting a loan in the future.
Users can take advantage of the grace period to make large purchases and accumulate cash to set off the debt on the due date.
Almost all retail stores nationally and internally accept credit cards. Prerna, who is always traveling for work, can swipe or tap to make a purchase with a credit card in her hand.
In her research, she realized the world of credit cards is enormous, and there are several factors to consider before selecting the right card that works for you. She worked out her usage and figured there were four things she needed from her credit card – a great rewards system that will reward her purchases with points that can be redeemed later, advantageous cashback offers against purchases on online portals, minimal annual maintenance fee, and quickest approval process. After multiple Google searches, she finally picked RBL Bank Cookies Credit Card for its many benefits and rewards.
Introducing RBL Bank Cookies Credit Card
RBL Bank Cookies Credit Card is perfect for covering all kinds of expenses — from day-to-day grocery runs to luxury spending, fuel refills, in-store purchases, and online shopping. This card is a great choice for anyone who has an 'on-the-go' lifestyle. The card accumulates reward points for every purchase that can be redeemed against brands or evening dining privileges. The card also offers cashbacks and discounts on your favourite brands and the flexibility to carry forward outstanding balances with interest or clear payments in full, each month!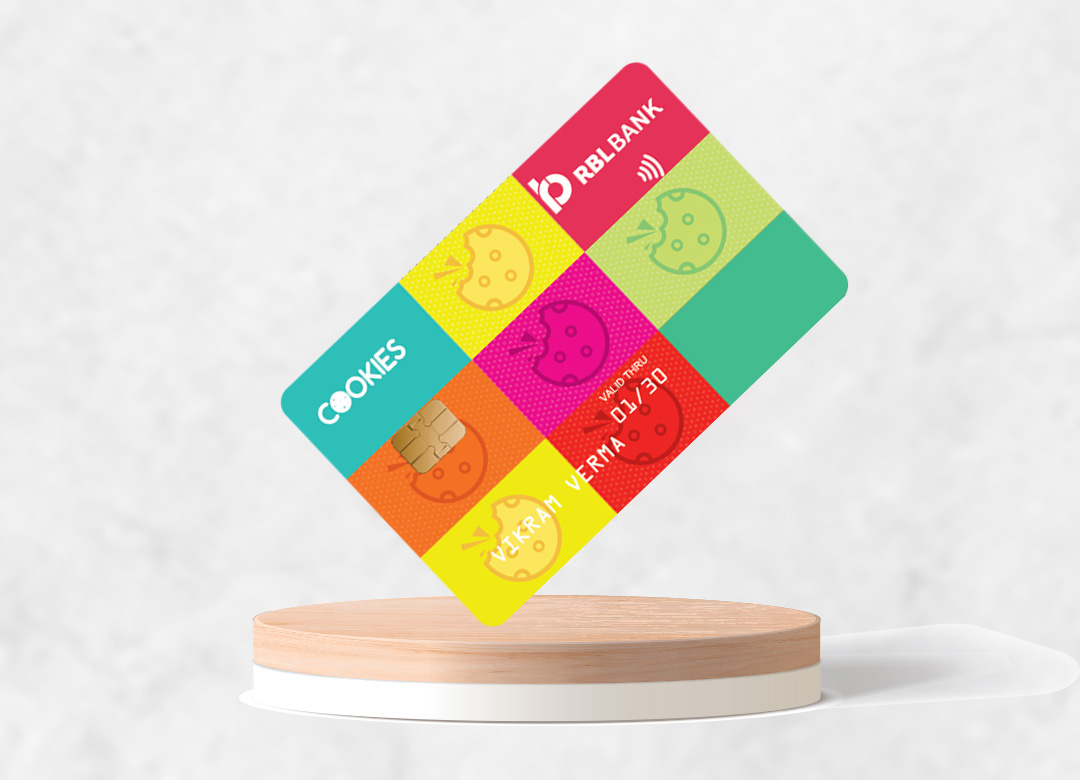 Why opt for RBL Bank Cookies Credit Card?
The first bite of a cookie is always rewarding, leaving us wanting more. RBL Bank Cookies Credit Card gets its name for the very same reason! The card is perfect for someone who enjoys the outdoors, traveling, fine dining, and all things fun, which is precisely why Prerna felt this card would fit her lifestyle seamlessly. The card offers an endless array of benefits and perks that she can enjoy!
Reason 1: An Awesome Welcome Gift!
Usually, other credit cards do not offer a Welcome gift but the Cookies Credit Card starts your journey with a gift voucher worth Rs.1,000. This voucher can be redeemed from any major online store, including Amazon, Flipkart, Myntra, Croma, or Shoppers Stop. To avail the welcome gift, simply make a purchase within the first 30 days of card issuance.
Reason 2: Benefit from Year-long Rewards
No one can eat just one cookie. Similarly, it would be hard to resist using the RBL Bank Cookies Credit Card. The card offers gift vouchers worth Rs.1,000 & Rs.5,000 across online shopping portals like Myntra, Croma, Amazon, Flipkart or Shoppers Stop. You just need to spend Rs.2 lakhs & Rs.5 lakhs in a year respectively to earn these vouchers.
Reason 3: Win Points on Online & Offline Purchases
The card also offers reward points based on online and offline purchases. Get five reward points for every Rs.100 spent online and one reward point for offline purchases except fuel.
Soon after, Prerna got herself the credit card; she encouraged her friends to get one too. Not because these cards are easy to get, but because the offers are irresistible.
Reason 4: Even More Benefits
Apart from the fabulous deals the card offers, instant rewards make your everyday shopping more fun.
Instant 10% discount at various online portals, including BookMyShow
10% cashback, up to Rs.300 per month, at Uber, Myntra, and Zomato
Rewards program
Get a 10% discount with coupon code 'COOKIES' at Blinkit
Fuel surcharge waiver up to Rs.150 per month across all stations for fuel transactions between Rs.500 and Rs.4,000
Prerna realized that she was missing out on some exciting offers by using the regular debit card. Now she never misses an opportunity to use the card and has fully embraced the cashless lifestyle!
How to Apply?
Although the card comes with a monthly membership of Rs.1,00 plus taxes, users can get the monthly fee waived by spending Rs.5,000 in a month. Applying for a card is quick and easy. Simply submit the following documents and a completed form to get your card.
Copy of ID proof such as PAN card, Aadhaar card
Address proof such as Aadhaar card, voter ID, passport
Income proof such as payslip, Form 16, or the previous year's income tax return
To know more about the offers, visit the website today!