What is Tokenisation and how important is it for you to use?
Aug 26, 2022
In this digital era, we seek for utmost privacy and security during online transactions. How often have you felt a little nervous using your debit or credit card for routine purchases? There is a possibility that, at some point throughout your online payment journey, you will become a victim of debit or credit card fraud if you own and frequently use it.
American Express Insights reports that 53% of consumers claim they have fallen victim to fraud when making digital payments.
After the Covid-19 pandemic, more people have shifted to using contactless and online payment methods. Maintaining a seamless operation of the digital payments' environment is the first step in developing trust and loyalty in today's world, where fraud threatens the entire economy. Tokenisation of cards is crucial in this situation.
The Reserve Bank of India's requirement for the adoption of card-on-file (CoF) tokenisation as an alternative to card storage, the deadline for which has been extended to September 30, 2022, can be connected to tokenisation's unexpected traction as the future of card-based payments. Customers are being contacted by Indian banks and businesses, who are requesting that they tokenise their credit and debit cards by the deadline.
Tokenisation of Debit and Credit Cards: A Brief Explainer
Every day, the payment sector transfers debit and credit card data millions of times. Cardholder information and additional payment information is required to complete each of these transactions. This sensitive debit card and credit card information must be protected, to protect customers, merchants, and banks.
Every time we use a debit or credit card to make an online purchase, we are required to provide our card information, which includes the card number, name, expiration date, and three-digit CVV. These card details are saved on the platforms the business uses by employing masking and other security measures.
Tokenisation of debit and credit cards is the process of replacing sensitive data with a token, or a randomly generated, unique placeholder, from the business's internal network. This token is used, to get access to, retrieve, and maintain our debit and credit card information to offer a higher level of security for the customer and the business.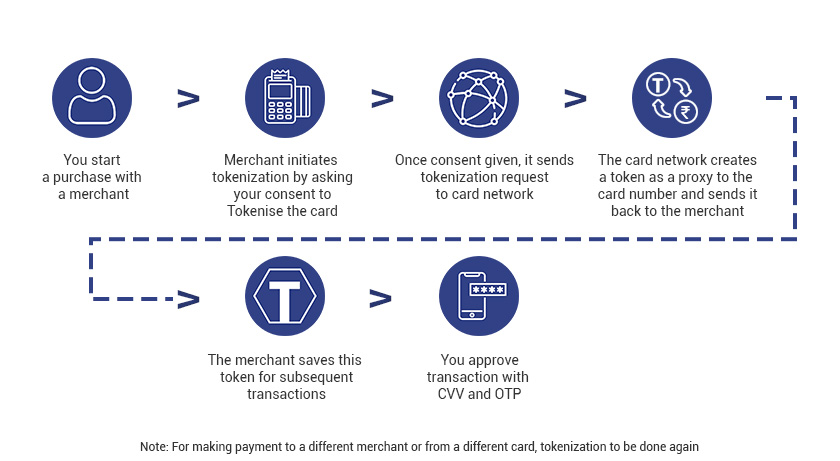 Tokenisation offers an additional layer of security to your sensitive data, preventing online and digital data breaches in a world where online frauds and cyberattacks frequently obstruct the adoption of digital payments.
Benefits of Debit and Credit Card Tokenisation
#1 Decreased number of data breaches
Businesses can reduce the damaging financial effects of data theft by using tokenisation. Tokenisation cannot shield you from a data breach, but it can definitely lessen the financial repercussions of any prospective loss.
#2 Increase consumer trust
Using cutting-edge security measures like tokenisation not only prevents the worst-case scenario of a data breach but also builds customer trust. We don't want our debit card / credit card information to end up in the wrong hands. In fact, we value businesses that show a strong commitment to the security of our data.
#3 Less complexity for companies
The Payment Card Industry Data Security Standard must be followed by companies that take debit and credit cards (PCI DSS). Achieving and maintaining compliance with industry laws is greatly made easier by tokenisation.
#4 Innovation in digital payments
Tokenisation's underlying technology is crucial to many modern purchasing and selling practices. It allows for easier and safer payment than ever, from the secure in-store point of sale acceptance to payments on-the-go, from traditional eCommerce to a new generation of in-app purchases.
#5 Faster checkouts
You won't have to manually enter your card number for every purchase, thanks to your tokenised card, which also gives you the convenience of speedy checkouts. Once you save your card, you'll always be able to transact with simplicity.
How can I tokenise my debit and credit card?
The next time you use your debit or credit card to make an online purchase, the payment processor will ask you whether you want to "Save card as per RBI standards" or "Secure your card." After clicking "Save," enter the OTP that has been sent to your mobile phone. Your card has been tokenised; that's all. Most importantly, even after your card is tokenised, you will still receive offers based on your card.
Your card number is changed during tokenisation to a random token number. The systems used by banks and payment processors match your card number to the token number to ensure that the right cardholder's account is debited and credited while making a payment.
For provisioning merchant-specific network tokens for card on file (COF) payment methods, a Token Requestor ID is generated, which is a merchant-specific identifier. There is more trust in issuing banks because the card on file network tokens is merchant-specific, and hence fraud is decreased.
As per the RBI, "Tokenisation refers to replacement of actual card details with an alternate code called the "token", which shall be unique for a combination of card, token requestor (i.e. the entity which accepts request from the customer for tokenisation of a card and passes it on to the card network to issue a corresponding token) and device (referred hereafter as "identified device")."
Tokenisation: Creating pathways for the future of digital payments
Since online retailers retain our card information, all online users are in danger if the merchant's security procedures are weak. Debit and credit card information has been exposed on merchant websites in several previous hacking incidents. RBI wants to get rid of this. By implementing card tokenisation, banks and payment processors—not retailers—now have the responsibility for security.
India has become a hub for developments in digital payments in recent years. In India, where a digital near-revolution is presently taking place, businesses are using omnichannel strategies to profit from customers who shop across several platforms. While doing so enables them to further improve the customer experience, there is also an added duty to secure sensitive information.
By enabling a safe and secure experience for the user, tokenisation will not only reinvent the current payment ecosystem but will also help our nation transition to a less cash-dependent culture much more quickly.
Get started in the world of hassle-free digital banking. Check out the multiple offers and offerings of RBL Bank – Apno ka Bank.