4 things to keep in mind while travelling abroad
Sep 13, 2022
Travelling is food for the soul. While the last two years allowed us to reconnect with our family and live life vicariously through movies and TV series, it became evident that travelling helps us grow from within and expand our personality. Every time you visit a new place, it is a different experience. And in the era of Instagram, it is easy to get a glimpse of the world that is around us and be inspired to make a trip. To top it off, professional travel bloggers give us major FOMO (Fear of Missing Out) by posting stunning pictures and quirky reels, making our desk jobs seem mundane.
Now that countries are opening borders to tourists, there is a rush to visit places and compensate for the lost time. If you are a travel enthusiast who is planning a trip abroad, here are four things you must keep in mind:
Check for Rules Related to Vaccinations and PCR Tests
Resident Indians started getting inoculated in early 2021 with either of the Indian vaccines until other brands came along. However, there was much debate over which country recognizes which vaccine for travel. Irrespective of which brand of vaccine you were administered, it is advisable to confirm vaccine rules before travelling abroad, including the need for the booster dose before entry.
As the rules constantly evolve, it is also prudent to be aware of the PCR test requirements. Some countries still insist on PCR tests upon arrival, while some expect a negative result before commencing the onward journey. We also recommend having a soft copy of your vaccination certificate handy to share it with officials if requested.
Plan a Trip with a Travel Agency to Help Reduce the Burden and Stress of Planning
Some love to have an itinerary for the entire holiday, and some like to go with the flow and explore on their own. No matter your type, we suggest planning with a travel agency. Here's why:
First, this helps fix a budget. Most travel agencies have various packages based on location, duration, and the number of days. Since all the activities are already included in the package, one can be assured of the cost involved without any hidden charges.
Travel agencies often know the best spots to visit and make the holiday more interesting. The end-to-end details of the trip are informed beforehand, making travel effortless.
Customizable based on the occasion. If you are going on a romantic getaway, the travel agency can suggest places and activities based on the couple's interests. Similarly, a family reunion abroad can include fun activities that both kids and adults enjoy together.
Plan Your Budgets Well in Advance
A shopping spree makes a trip much more enjoyable. But it is impossible to travel with a lot of cash in hand. Most travellers used to choose travellers' cheques. They used to be easy to carry and use. Since recently, pre-loaded Forex Cards have been a popular option. We recommend RBL Bank's World Safari Credit Card. The card has a 0% markup fee on all foreign currency transactions, making it the perfect travel-friendly card. This means the cardholder automatically saves up to 4% on all foreign currency transactions.
The World Safari Credit Card from RBL Bank comes with a welcome gift worth Rs.3000 from MakeMyTrip. The voucher can be used to book flight tickets and hotel reservations instantly.
With an annual membership fee of Rs.3000 + GST, RBL Bank World Safari Credit Card offers
Reward points on travel spends and purchases
Travel points based on spending in a year
Additional gift cards from various brands
Access to luxury lounges at airports
Complimentary travel insurance
Dedicated round-the-clock concierge service
Golf privileges
Fuel surcharge waiver
Applying for RBL Bank World Safari Credit Card takes only two minutes. Simply fill out the form, and enter the OTP and PAN card details to complete the application process digitally!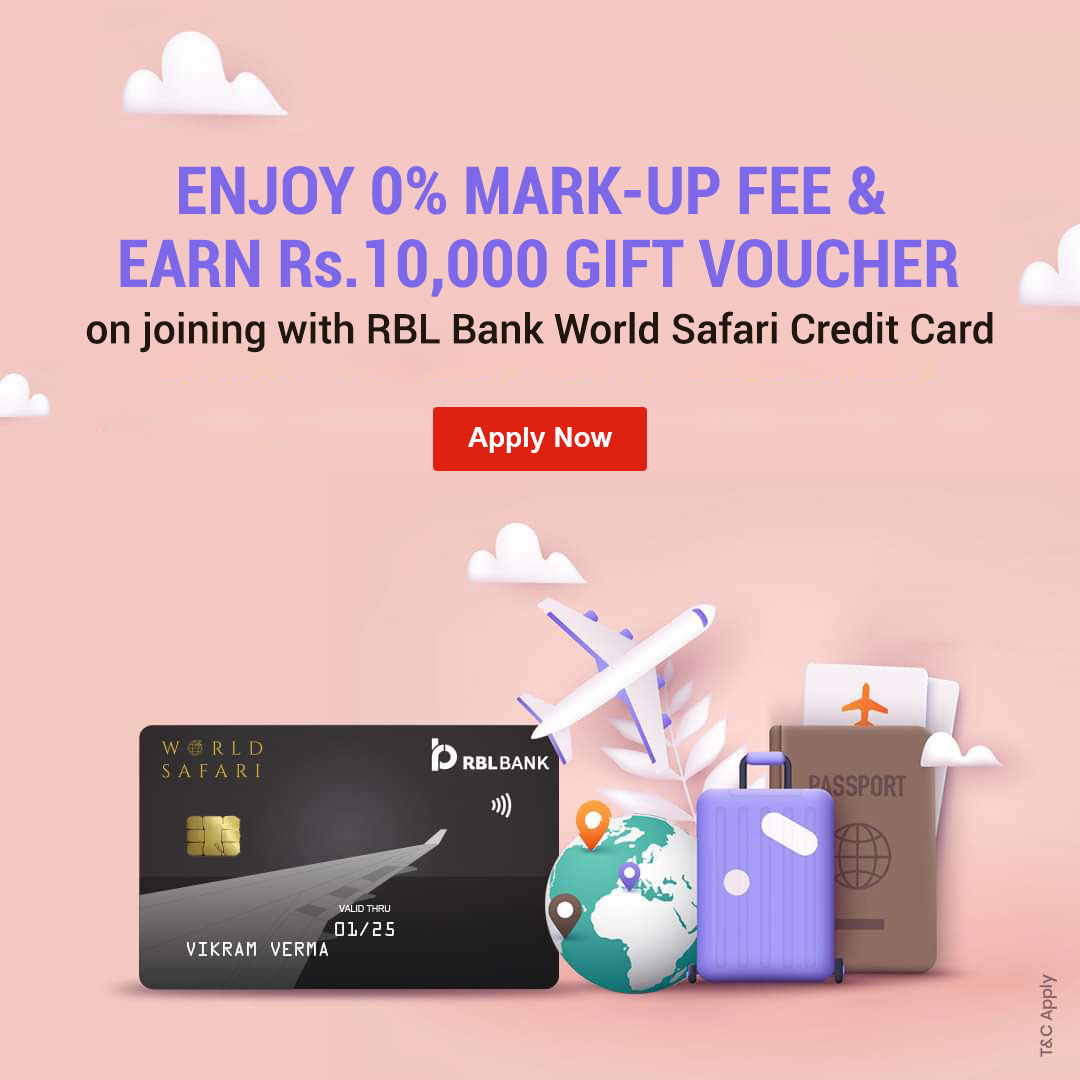 Visit Offbeat Places Instead of Tourist Destinations to Avoid Large Crowds
The pandemic is not yet over, but life has to go on. While most countries do not report an alarming number of cases, it is wise to be prepared. Travelling during these unusual times means one has to be extra cautious. Whether you are planning a trip with an agency or using the internet to plan your own getaway, we have a suggestion — instead of choosing to go to regular tourist spots, choose to opt for offbeat locations. For instance, instead of going to Oktoberfest in Germany, you may choose to visit the Bavarian Alps. Similarly, Greece has a lot of picturesque places. Instead of Santorini, you may visit Paros, Ios, Naxos, or Kythos.
These offbeat locations have lesser crowds, which means lesser chances of coming in contact with any of the communicable diseases. Another great advantage of visiting these new places — better Instagram photos, authentic interactions with locals, experimenting with local delicacies and therefore, you will have much more fun exploring these new places.
Some of these tips apply even if you are travelling within the country. Irrespective of where you are travelling, remember to always stay vigilant and continue wearing masks in public.
Having discussed tips to plan your trip, here are a few things to keep in mind for safe, sensitive and respectful international travel:
While exploring new cultures, it is important to also respect them. Learn certain etiquettes and dress codes beforehand
If any flu vaccines need to be administered, have them taken in advance
Purchase medical and travel insurance to protect yourself from any unplanned expenses
Download a language app that can help you interact with locals easily
Enroll for a data plan to stay connected. There are prepaid cards available that can be used for their data plan
If you are travelling to multiple cities, travel light. Minimize the souvenir purchases so that it is easy to carry your luggage around.